Haha did i just googled Super Cute & Simple DIY Gifts for boyfriend girlfriend huhuhu ♡ lol nah.
Because my first boyfriend's birthday is upcoming on this weekend! My abah (first bf) lol. So yes. I got some cute ideas after browsing the internet for 2 hours huhuhuhuhu nak share gak!!!!!
ok lets go (pictures credit goes to pinterest & tumblr ;))
1. Explosion Photo Box / Exploding Box
Cute kaaan omggggg bayangkan kita bukak kotak meletop penuh dgr gambar wuuu!
2. Photo clothes-pin cork board amboi huhu.
THIS IS CUTE!
Guna penyepit je okkkkkkk
3.
Reasons why
i love you
cards/scrapbook/jar
haha dear aqilah, i DARE YOU to hand this to your crush :p ihihiks.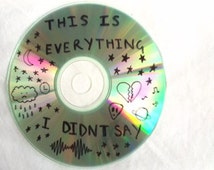 4. SUPER HUGE CARDS huhuw or
Birthday Card for my dad with candy!!!!!
Cards Ideas, Birthday Theme.
Sangat cute ok. Boleh makan choc tu sama sama uhuhuu.
So yay! 4 amazing ideas yang agak senang hehehee. Happy birthday Abah! Thank you, for everything. I just wantchu to know that walaupun kitorang girls anak abah tak selalu call abah but hey tak semestinya tak rindu ok!!!!!!