1.

rid (someone) of an unwanted feeling, memory, or condition.

"Bob had helped purge Martha of the terrible guilt that had haunted her"

2.

physically remove (something) completely.

"a substance designed to purge impurities from the body"
Ok dah pernah tengok Purge tak? Sorry lah gambar memang creepy sikit.
Ikutkan nak letak lagi tapi nanti awak awak semua lari habis haha.
Wuhu must watch kalau awak awak semua suka cerita ganas ganas hahahaha.
Haaaaaaaaaaaaaaaaaaaaaa qila nak cerita sikit pasal Purge Movie Series by James Demonaco peh peh otak apa lah ek dia ni hikhik.
2. The Purge : Anarchy (2014)
Purge ni maksud dia menyucikan. Haaaa kira nak clearance kan dirty souls gitu.
In 2022, all political movements have been shut down by the "New Founding Fathers of America", which took over following an economic collapse.
So masa ni 2022 gitu lah hahaha American masa tu mcm dah takde tuhan.
Diorang ada tuhan baru cemtu lah.
And ada rules baru iaitu
ada satu hari tu TAKKAN ADA ANY RULES & REGULATIONS
Boleh bunuh orang sesuka hati, bunuh adik beradik boleh, etc etc nauzubillah lah huhu.
Senjata yang kita guna pun masa tu kena lower than senjata gred 4 (taksilap lah hihi)
Pastu masa ni. TAKKAN ADA hospital, polis, bomba yang available dari
7 PM - 7 AM next day T_T
Takut tu yang takut lah sebab bayangkan semua duduk je dalam rumah,
yang keluar rumah pun yang nak gi membunuh / "purge" lah kihkih.
Jadi masa ni rate unemployment 1% je tau sebab orang miskin habis semua kena bunuh.
Kira kena sacrifice lah. Gila kan?
Ok lah ni link Purge Film Series nya hihi.
Ni number 1 punya, memang best gila!
Qila suka number 1 hehe.
Paling best bila team team MAHASISWA yg super intelligent ni dtg rumah kah kah
best lah cerita ni eeee hahaha
and yg bawah ni encem hikhik suka qila tengok dia wihi~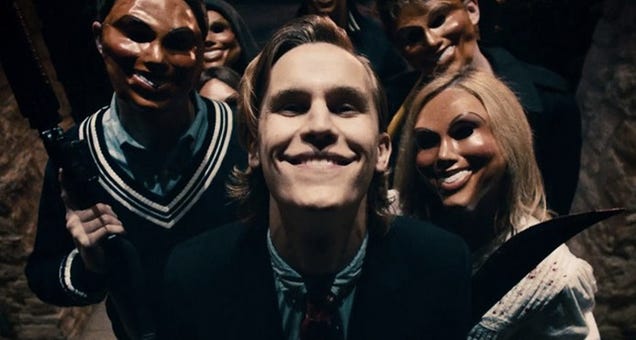 **********************
Ok ni number 2, Anarchy means rebellion gitu.
Masa ni dah ada dah pembangkang kepada The Purge ni.
Eh hello mesti lah kena bangkang kerja gila ni kan T_T
Sumpah lah kesian gila oh homeless yang miskin duk tepi jln mati cemtu je ish.
Best! Dalam both cerita ni ada heroooo hihi.
P/s : Satu lagi rule baru, tak boleh tolong orang lain. Kalau didapati jadi hero, hero kena mati.
Omg. Cerita ni boleh buat kita jadi gila!!! Hahahahah TT_TT
Ofcs lah tak study hahahah ish ish takpe malam ni chaiyuk hihi
maka habis dah lah kan cuti kita semua hmmmmmmmmmm